Geographical coordinates: Latitude. 35.0666667°, Longitude. 32.6666667°
Vroshia was a village situated on the western Troodos mountains, in the upper Pyrgos Valley. It is usually claimed that the name is a corruption of "aphrodisia," but Goodwin suggests that it could be the Greek Cypriot way of saying, "many fountains." In 1959, Turkish Cypriots adopted the alternative name Yağmuralan, literally meaning "place that receives rain."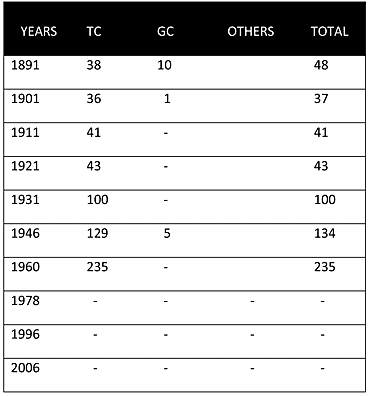 Historical Population:
Although in 1891 there were some Greek Cypriots living in the village, from 1901 to 1960 the village was almost solely inhabited by Turkish Cypriots. During the British period, the population of the village increased steadily from 48 in 1891 to 235 in 1960.
Displacement:
All the Turkish Cypriot inhabitants of Vroisha/Yağmuralan were displaced on 15 March 1964 and sought refuge in the Turkish Cypriot enclaves of Limnitis/Yeşilırmak(061) and Amadies/Günebakan(015). Those who sought refuge in Selemani/Süleymaniye(094) village were displaced again in August 1964, when the area was under attack by General Grivas and his Greek Cypriot National Guard. Vroshia was evacuated by UNFICYP, and all its villagers were moved to Limnitis/Yeşilırmak(061) and Kokkina/Erenköy(050). They remained there until 1975, when they were once again resettled in the villages of Potamos tou Kambos/Yedidalga(090), Karavostasi/Gemikonağı(045) and Xeros. Many of Vroisha's inhabitants left Cyprus after the 1974 war and settled in the UK and Australia, while some stayed in Limnitis/Yeşilırmak(061).
Current Inhabitants:
The village has remained abandoned since 1964; all of its houses and buildings were already destroyed in 1964.